10 Kaolin Clay Skin Benefits You Should Know About
Disclaimer: At Pearls And Poodles Blog, our editorial team carefully selects the best products for all your needs. If you make a purchase through links at our blog, we may receive a commission that helps us keep bringing new content like this to you!
Kaolin Clay is a natural ingredient which is found in many beauty products. It has been used for centuries to help with various skin conditions and it's no surprise why!
Kaolin clay benefits are endless. You'll find this ingredient in everything from toothpaste, shampoo, and facial cleansers to acne treatments and even detoxifying masks.
Let's take a closer look at the 10 most popular kaolin clay benefits you should know about today!
You won't believe how versatile this one ingredient can be when it comes to your health and beauty routine. From controlling oiliness to soothing rashes, kaolin clay can do it all!
Let's find out the benefits of Kaolin Clay and explore how good it is for your skin.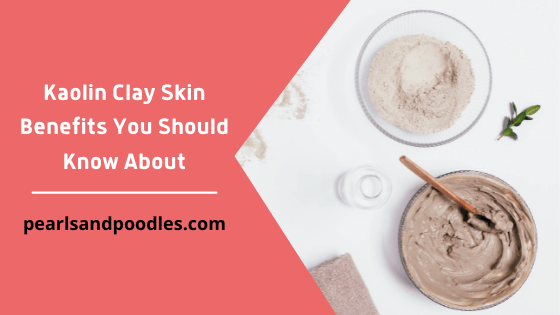 Kaolin Clay is a natural ingredient that can be used in many ways. It is an excellent detoxifier and exfoliator, so it's perfect for those with oily skin.
Kaolin clay also helps to control oiliness by absorbing excess oils on the surface of your skin.
It has been shown to help reduce acne breakouts when applied topically or taken internally as a supplement.
It also works well as a facial cleanser because it absorbs excess oils and dirt from your pores without drying out your skin as most other cleansers do!
Plus, kaolin clay can tone your skin while fighting acne at the same time!
Lets, take a look at 10 benefits of kaolin clay you should know about.
Kaolin Clay Skin Benefits You Should Know About
1. It Helps Control Oiliness
Kaolin clay is a natural oil-absorbing ingredient.  If you have oily skin, this mineral will help to balance the overall amount of oils on your face and neck area for an overall more perfect complexion!
2. Natural Detoxifier And Exfoliator
It's important to detoxify your body at least once or twice a month.  The way to do this is by using kaolin clay as an all-natural exfoliator.
Your skin will feel so soft and refreshed after using kaolin clay as a natural exfoliator!
3. It Can Soothe Rashes And Irritation
If you have sensitive skin or suffer from psoriasis, kaolin clay can help soothe the discomfort and itching that your rash may cause.  This is because it acts as a natural anti-inflammatory. [1]
It has been said that kaolin clay can tone your skin when used in a mask.  Using a kaolin clay mask can help to tighten your pores and make your complexion look much healthier.
Kaolin Clay Benefits include being used as a natural shampoo!  If you have oily hair or having dandruff, this mineral is perfect for you.  It can help remove excess oils from your scalp to get rid of that dull, limp look.
6. Excellent Facial Cleanser
If you are looking for a natural way to get brilliant skin then kaolin clay benefits include being used as a face cleanser!  This mineral helps cleanse pores while still leaving your skin feeling fresh and moisturized.
It has been said that kaolin clay absorbs excess oil on the surface of your skin which is perfect for those with acne-prone skin because it can dry out blemishes without drying out the rest of your face!  This makes kaolin clay a great choice for minor to moderate acne.
Kaolin clay is also perfect for fighting acne!  This mineral can get rid of blemishes and help lessen the severity of your breakouts with its powerful detoxifying effects on the skin.  Kaolin clay can clear out clogged pores that result in acne which can prevent future breakouts.
It's amazing for your teeth because it has been shown to help restore enamel hardness and prevent tooth decay!  Kaolin clay is the best replacement for harmful chemical toothpaste, so why not try it out?
If you are looking for a natural way to get rid of dandruff then you have found the solution in kaolin clay.  This mineral will help rid your scalp of any excess oil while strengthening your hair follicles in the process!
Just mix it with apple cider vinegar and water, put it in a spray bottle, and use it!
Overall, kaolin clay benefits you in more ways than one.  This mineral is an amazing cleaner and detoxifier for both the skin and hair.
The best part about it all is that it's completely safe for your body to use with no harmful side effects!
It will make your skin look flawless and give you a healthier glow!  Just make sure to use the mask only 1-2 times a month so as not to damage your skin.
If you have teeth issues this clay is perfect for them too.  Just be sure to gargle with some apple cider vinegar after.
Share This Story, Choose Your Platform!