How to Get Deep 360 Waves: A Comprehensive Guide
Disclaimer: At Pearls And Poodles Blog, our editorial team carefully selects the best products for all your needs. If you make a purchase through links at our blog, we may receive a commission that helps us keep bringing new content like this to you!
We all know that getting the perfect waves is hard, but it's also a lot of work. It takes time and patience to get those deep waves you want. You have to take into account many things to get the perfect and deep waves.
This article will teach you how to get deep waves in the easiest manner. You'll find out what tools are necessary, which products work best, and how long it takes.
After reading this article, you'll be able to create your own deep wave hair style in no time! So if you're looking for a new hairstyle or just want some tips on how to make your hair look better – keep reading!
Let's start with the tools that you will need to get started!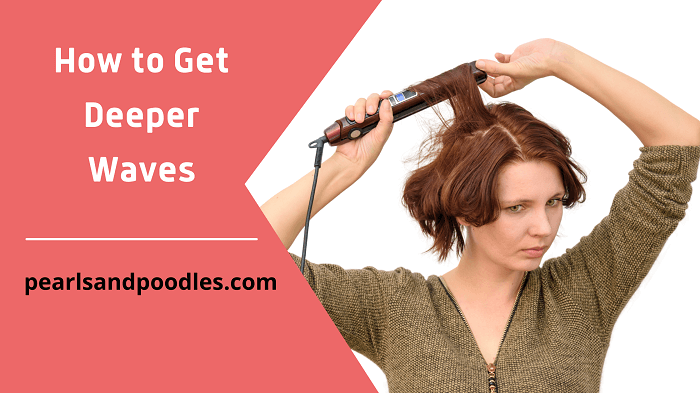 1. A Hand Brush
A hand brush will make combing easier and it will prevent hair damage. So, don't forget to grab this one.
2. Wave Cap
A wave cap is necessary for all hairstyles. You can use it to reduce hair loss if you sleep on your side or back.
3. Pomade or Moisturizer
Do not skip this one! A pomade is a great option if you want even deeper waves, while a good moisturizer will help keep them from getting frizzy and dry out during the day. Moisturizing will help with any hair type.[1]
4. Shampoo and Conditioner
Shampoo and conditioner are what keeps your hair healthy, shiny, and frizz-free every single day. So, don't forget to get a good quality shampoo and conditioner.
Process Of Getting 360 Waves
Follow the steps mentioned below to get perfectly crafted deep waves right in the comfort of your home.
You need to cut your hair short and edge it up. You must not cut the hair so short that your scalp becomes visible.
Try cutting it at the jawline and trimming every few months as needed for an even length, or cut your hair so that it is about one inch long all over.
Brush your hair to remove tangles and smooth the cuticle. Whatever suits your hair texture, keep brushing your hair for 2-3 minutes and then brush it out.
You need a round brush that is longer than its wide, any other high-quality natural bristle brush for this step in order to get really good waves.
This step is optional, but if your hair needs some extra moisture before it can be tamed and waves come out of your head like magic then use the product to add a little bit more.
Leave a small amount in the palm of your hand and rub them together vigorously for about 30 seconds before applying evenly through damp or dry hair.
Dip the piece of cloth into warm water and place it on your hair for a minute
After you have made the towel cool, wrap it in a plastic bag and place it on your head for about 15-20 minutes. You can also use this time to get some housework done.
Bath time is a good opportunity for cleanliness, this moment should be used to rinse all the dirty substances from your scalp to the head.
It is a good idea to try and use shampoo and conditioner before this process if you want the best of it all.
Before starting the process you should wash your hair to get rid of any oily dirt and ensure it is well-conditioned.
6. Brush From Cowlick Formation
The cowlick is usually formed on the back of your head and it may be difficult to brush.
To avoid this you should start brushing from a point below the cowlick formation instead, gradually moving upwards.
This will ensure that all knots on the crown are brushed out before moving up so as not to break any hair while doing the process.
Wave caps should be worn at all times when using heat tools such as blow dryers or curling irons, this helps with protecting the scalp from excessive damage which may lead to burns.
The process starts by dividing wet hair into sections and then clipping them up close together in order to get the desired shape of wave locks after drying. This can be done with a comb if necessary but pay extra attention and do not pull on the hair excessively.
When drying, do it in sections to prevent waves from being too uniform, and then use a diffuser attachment for your blow dryer so as to reduce heat which can be damaging to your locks.
It is important to note that styling should only be done after all dampness has been removed from waves, this means waiting until they are completely dry first before any touching occurs.
Use hot/ warm while shampooing to prevent frizziness and dry with a diffuser attachment. Drying hair upside down will help add volume but make sure it is done in small sections so as not to overload any one area.
It does not matter whether you choose to go with what may seem like the easier option, but keep in mind it will take more time and energy as well as patience on your part while trying to achieve these looks.
Above the steps will definitely help you get deeper waves as well as ensure the health of your hair. You can expect to see a great difference in your appearance after applying any of these tips.
What is important is that you use some common sense when it comes to using tools such as blow dryers, flat irons, and curling wands. These tools can be very harsh on your hair, but by using the right precautions you will see a great difference in your hair without any unnecessary damage.
Share This Story, Choose Your Platform!