The 4 Easiest Ways to Curl Thick Long Hair at Home
Disclaimer: At Pearls And Poodles Blog, our editorial team carefully selects the best products for all your needs. If you make a purchase through links at our blog, we may receive a commission that helps us keep bringing new content like this to you!
Curling your hair has never been easier than it is today. There are so many different tools you can use to curl your hair, and some will work better for certain types of curls or waves.
We've rounded up some time-saving tutorials for every need that even beginners can master, including how to curl thick long hair with a curling iron or wand, straightener, rollers.
For the process to get started let's first dive into the things you must do before curling your thick long hair.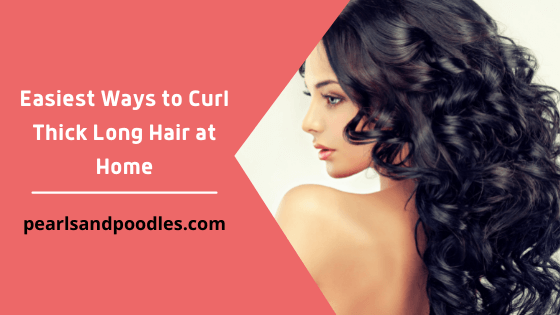 Things You Must Do Before Curl
Before we go with the tutorials, there are a few tips and tricks to help you get the best results with your curls. Make sure to follow the instructions given below for the best possible curling results.
1. Always Prep And Protect Your Hair
Before curling with your chosen product, detangle your hair in sections with a comb. Use the right amount of heat. Too much will result in an uneven curl that doesn't last as long.
 If you're using a curling iron or wand to create curls, use medium-high heat and be sure not to let it go past your shoulder.
Choosing the right tool can make the difference between a perfect curl and one that just doesn't look quite right.
If you're using a curling iron or wand, use medium-high heat and be sure not to let it go past your shoulder. Curl in alternating directions for more natural-looking waves.
3. Pick The Right Temperature
Picking the right temperature range depending on your hair type as mentioned below:
Fine or Damaged hair –

180° to 370°
Healthy thickness, normal-thickness hair –

370° to 395°
Thick hair –

400° to 420°
Before moving on to the next section of hair, ensure that the last curl is completely cool before going back over any old curls.[1]
The larger the barrel of your iron or wand, the tighter curls will result. The smaller the barrel, the looser curls will be perfect.
4. Wait For Hair To Cool Before Touching It
With rollers, wait until the hair is completely cool before touching it.
Once you've finished curling your entire head of hair, take a look in the mirror to make sure that everything looks just right, and then either brush through or style with a light-hold hairspray for best results.
How To Curl Thick Long Hair Yourself In Four Easy Way
Curl your hair with a curling iron, with a straightener or flat iron, with a curling wand, and with rollers for beginners. Let's take a look at the process of curling with every single tool.
1. How To Curl Hair With A Curling Iron
For the most natural curls, use a curling iron on medium heat and wrap your strands around it in sections starting at the end of your hair all the way up to your roots.
1. Do the Twist(s)
Twist it and keep the end of your hair that you'd like to curl. Now, take a section from the middle of your hair and wrap it around the curling iron while holding onto both ends.
2. Hold for 3 Seconds
Hold on tight for about three seconds before releasing then move up just one inch. Repeat until all sections are curled around the curling iron- or do it with  Curl Hair With a Straightener or Flat Iron.
If you have tighter curls, use a flat iron and curl your hair in sections by holding the straightener vertically against your head. Then turn it horizontally to grab more of your hair.
2. How to Curl Hair With a Flat Iron or Straightener
A flat iron or straightener can be better to quickly get curls at your home. You want to use this when you have shorter pieces of hair, which will make the curls tighter. Here's how to do it:
A. Use A Flat Iron For Beachy Waves
1. Start At Your Brow
If you want to have a ton of soft waves and curls, start at your brow. The weight of the hair will help it stay curly for longer duration.
2. Make S-shaped Hair.
While holding the iron horizontally, make S-shapes through the hair. This will help create more of a wave without making it too curly.
3. Leave Out the Ends
Repeat all over and stop styling before you reach the top of the tips. And leave the ends.
B. Get Curls With Your Flat Iron
1. Start At The Root
If you want to use flat iron then start with the root. This will give you curls that are a bit tighter because it only goes through the hair at one time.
2. Spin the Iron
Twirl the flat iron in one direction until you reach the end. Use a curling wand for softer curls. If you are looking to have more airy and softer waves, then try using a curling wand with your hair dry.
3. Repeat
Repeat all the sections which are remaining.
C. How to Curl Hair With a Curling Wand
Hair should be sectioned into different sections, about one inch thick for each piece.
This will help the curls stay in longer and have less frizz. Sectioning also decreases the time between steps because it takes significantly less time to wrap around small pieces of all your hairs.
1. Protect Your Hand
Wearing gloves will protect your skin and hair from heat damage. While using a curling wand, make sure that the clamp is not too tight to avoid ripping out chunks of hair. The tighter it is, the more likely curls will be smaller or closer together.
2. Smooth and Section
Brush your hair completely and you can even separate it with a comb if you like. This will help keep it flat, which is easier for curling and helps with frizz as well.
3. Get Curling
Curling can be done by holding some part of the section in your hair at the part and working your way up from there, except if you are using a curling wand.
If you have long thick hair, it may be easier to use rollers all over  or in sections.
D. Go With Using Your Roller
1. Start Right
Begin by parting your hair down the middle and smoothing it out with a paddle brush. Grab two-inch sections of hair, starting at the roots, then clamp your straightening iron near the ends.
2. Section and Wind
Spin it in one direction for about five seconds while pulling downwards to create tight curls. (This will help create more volume even without a styling
3. Repeat
By brushing the frizz on one side of your head, twist hair into a mini bun and use pins to secure it. 
This is another easy way that beginners can try because it doesn't involve heat. Take your rollers out from the night before (or while you're working).
As you can see, there are a lot of options for curling long hair. Some things to remember are that the shorter your hair is and the tighter it is curled, the longer it will last. 
It also helps to have a light hairspray if you want your curls to last for days afterward.
Exploring and trying new ways in styling your hair while still maintaining its health is an important part of taking care of our beautiful locks. 
So go try it out! Play with different tools, techniques, and styles until you find what works best for you. 
Just remember not to let too many chemicals touch your strands as this can lead to damaged or dead ends and breakage.
Share This Story, Choose Your Platform!