How to Cover a Bruise with Makeup
Disclaimer: At Pearls And Poodles Blog, our editorial team carefully selects the best products for all your needs. If you make a purchase through links at our blog, we may receive a commission that helps us keep bringing new content like this to you!
Bruises are a part of life. You can gain them from exercise or sports, falling, everyday bumps and bruises, or you could have been the victim of assault.
Bruising is not only unsightly and painful, it may also be embarrassing and make you feel self-conscious in social settings. They are a common injury, but they can be hard to cover up.
It's not always easy to find the right concealer for your skin tone and it can take some time to blend in. Plus, you might have trouble finding one that matches the color of your bruise.
We've got you covered with this guide on how to cover bruises with makeup! Learn how to choose the best colors for your skin tone and what type of makeup is best suited for covering bruises. You'll also get tips on how long you should wait before applying makeup so that it doesn't rub off or smudge during the day.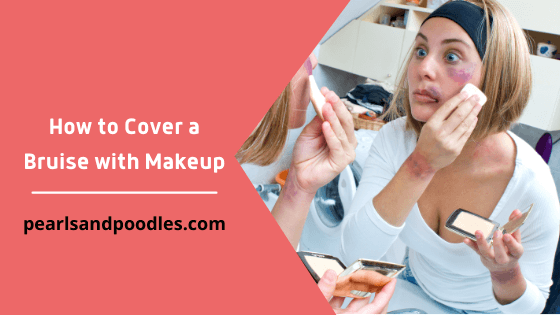 Foundation (full coverage formula)
Concealer (stick or liquid formula)
Loose powder
Setting spray
Silicone applicator sponge
Cosmetic wedges/pads
Cotton balls
Hand mirror
Bruise Makeup Tip #1: Use A Full-coverage Formula
Before applying your foundation, make sure to cover up any discoloration on the area with a concealer that is 2-3 shades darker than your skin tone, or use a stick concealer that matches your skin tone to cover up any areas that you want to be completely hidden.
For example, if the bruise is on your tan/olive-toned skin, use a shade of concealer that's 2-3 shades lighter than your foundation color so that it doesn't look like an obvious bandage was applied over the area. [1]
A full-coverage foundation formula is best because it's thicker and dries slower than a medium to full coverage formula so the bruise won't show through your foundation once you apply some on top of it.
Bruise Makeup Tip #2: Consider Color Correcting
If you have a dark bruise, consider color correcting before applying your foundation so that the bruise is less noticeable.
You can correct the purple/blue tones with a green concealer or correct the redness of a fresh bruise with a yellow concealer.
For this reason, using a stick concealer in your skin tone works better for covering up bruises than liquid or cream concealers because you won't have to worry about matching the color of your foundation!
Bruise Makeup Tip #3: Match Your Skin
When covering up a bruise, it's best to match your skin tone and not go with an exact shade of the foundation that you use on your face.
If you use a shade too light or dark, it can emphasize the discoloration while making everything else look off!
That said, if you do decide to use a slightly different shade than your foundation, that's okay because you can always adjust the color after you apply it.
Bruise Makeup Tip #4: Choose A Right Applicator
If you're applying your foundation with a sponge or brush, use a silicone applicator to help you blend and layer the foundation over any discoloration without irritating the skin.
Press and roll gently over the bruise to ensure that you're not too heavy-handed!
Bruise Makeup Tip #5: Set Your Makeup
Once you have your foundation applied, allow it to sit for a few minutes before setting it again with a translucent powder.
This makes it last longer and prevents creasing and smudging!
Bruise Makeup Tip #6: Choose A Brightening Powder Or Foundation
If you want your bruise to blend in, even more, choose a brightening powder or foundation that has a little bit of coverage to it.
This will help to mimic the way light naturally reflects off of your skin so that the bruise is less noticeable!
Bruise Makeup Tip #7: Don't Forget The Setting Spray
Once you've finished applying your makeup, don't forget to set it with a setting spray to keep everything in place all day long.
This is especially helpful if you have oily skin or the bruise is on an area that's prone to sweating since it will prevent your makeup from sliding off!
Bruise Makeup Tip #8: Refine The Color As Needed
If you want to adjust the color of your foundation after you've applied it, you can always use a concealer that's the same color as your foundation and carefully layer it over any areas where you feel like the bruise is still showing!
This will help to make everything look more natural and hide any discoloration that might be left behind.
Bruises are very common and usually not a cause for concern, but if you're worried about how to cover up acne scars, dark circles, or rosacea then check out my other makeup tips and tricks.
If you follow these 8 best tips and tricks for how to cover up a bruise with makeup, you'll be able to hide your bruise like a pro!
This way, you can continue with your day and not worry about how it's going to look if someone catches a glimpse of the discoloration on your skin.
No matter what type of foundation or concealer you use for this makeup trick, be sure to apply thinner layers over the bruise until you see the desired result.
Makeup is a great way to help you feel confident in your skin and detach from the negative feelings that might come with having a bruise. As always, I hope you found this post helpful!
Frequently Asked and Questions
1. What is the best foundation for scars?
Best foundations for scars are ones that include skin-brightening ingredients like vitamin C, retinol, kojic acid, and licorice root extract to help minimize any darkness left behind.
2. What is the best concealer for acne scars?
Best concealers for acne scars are ones that come in a stick form and have a creamy texture. They're also the easiest to apply and blend out with your fingertips!
3. Can foundation be used on pimples?
Yes, the foundation can be used on pimples (or any other type of acne) to help mask the discoloration and scarring that's left behind.
Just be sure to use one with a lightweight texture so it won't clog your pores!
4. How do you cover up redness?
Covering up redness is easy if you choose a green-tinted concealer that's the same color as your foundation and apply it to the red areas.
This will cancel out any unwanted redness and make you look like you have perfect, porcelain skin!
Share This Story, Choose Your Platform!