How to Cover a Black Eye: Easy Steps
Disclaimer: At Pearls And Poodles Blog, our editorial team carefully selects the best products for all your needs. If you make a purchase through links at our blog, we may receive a commission that helps us keep bringing new content like this to you!
Are you looking for a way to cover up your black eye?
We all know how embarrassing it is to have a black eye. It can be difficult to hide with makeup, but luckily there are some easy ways that will help you out.
There are many different types of makeup that can be used as an alternative. The most popular type of makeup is concealer because it's the easiest and cheapest option.
You can also use foundation or face powder if you want something more natural-looking. Another great thing about these products is they come in so many shades, so no matter what color your skin tone is, there's one for you.
You have your makeup, now let's learn how to cover that black eye up. To begin, let's see what you need.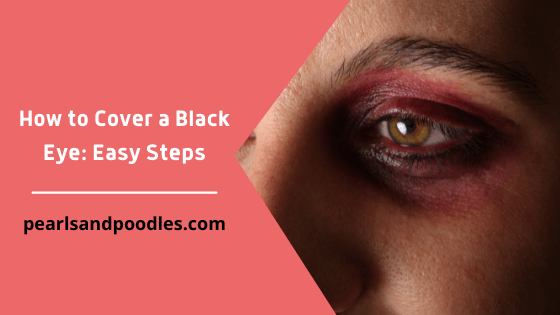 First, take a clean makeup sponge and then put a little bit of your chosen concealer on it. The amount you use will depend on how much coverage you want.
Some people prefer to squeeze out a small line, but others prefer to just dab the product onto their skin until they reach the desired amount.
Next, start applying the product to your skin. You don't have to use a lot of pressure, just tap it gently until you cover the area.
If you run out of concealer on your sponge, just add some more and keep going.
Once you have covered the black eye entirely with makeup, take a brush or a damp cloth and wipe away any excess.
Now you're ready to go! With your black eye covered up, nothing will be able to spoil that beautiful face of yours.
Put a tissue underneath the eye in order to stop any of the excesses from getting on your face.

Using a light hand, apply a thin layer of concealer over your entire eyelids and under the eyes.

Using a small brush, blend the concealer down toward your lower lashes to make it look natural. 

[1]

Using a Q-tip, mix some face powder with a drop of water and cover the eye area again for a more matte finish. Be sure to avoid putting any on your actual black eye!

To finish, apply a small amount of blush and some lip gloss and you're good to go.
Applying a foundation with more color than your normal shade might conceal the bruise, but green, yellow, and even lavender concealer as a base first makes the black and blue scar easier to detect.
Here's how to conceal a black eye with cosmetics.
Use an eye-shadow base that matches your skin tone to cover the bruise.

Apply a bright, light shade of green or blue eyeshadow over the area with a big, fluffy brush.

Sweep the same brush across a medium concealer and pat it onto the black eye, avoiding any other untouched areas of your face.

Blend the concealer and eyeshadow together with a clean brush, but don't blend them too hard or you'll lose your original base color.

Finish off by applying some highlighter over the top to make it look natural.

For an added touch of concealing, use a light brown pencil on the inside of the lower lid and blend, then apply mascara and eyeliner on both your upper and lower lashes!! And that's how you do it! Looks great!!
With these easy steps, you'll be able to cover up any black eye in no time. If the concealer still isn't enough for you, try other methods like wearing sunglasses or staying inside where nobody can see it.
By doing this, you should have a beautiful face in no time!
Frequently Asked and Questions
1. How to get rid of black eyes faster?
Black eyes are often caused by blood vessels underneath your skin that have broken. The discoloration can be there for a few days, depending on how severe the injury is.
2. What can I do to get rid of a black eye fast?
To reduce the pain of a black eye, apply pressure to the area for 10-15 minutes. If there is no more pain after that, then the pain has gone down on its own!
3. How to cover up a black eye fast at home?
You can use your makeup to cover up the dark colors under your eyes if they're still noticeable after you've done all of these treatments! To do this, try one of our methods on how to cover a black eye with makeup.
Share This Story, Choose Your Platform!