How to Choose a Hair Dryer: Factors You Should Consider While Buying
Disclaimer: At Pearls And Poodles Blog, our editorial team carefully selects the best products for all your needs. If you make a purchase through links at our blog, we may receive a commission that helps us keep bringing new content like this to you!
It can be hard to find the perfect hair-dryer for your individual needs. The best way to avoid dry, frizzy, and unmanageable locks is by choosing a hair-dryer that suits you specifically.
If you have thin or fine hair then weight shouldn't be too much of an issue but if you have thick or curly locks then the dryer mustn't be too heavy since this will only weigh down your curls and make them frizzier.
In this blog post, we will discuss five key factors that should guide your decision when shopping for a new hair-dryer: wattage, ionic (or not), tourmaline ceramic or porcelain, titanium weight, and size.
We will also talk about where these features are important in the context of your specific hair type so you can make an informed decision on which one is right for you!
At the end, there are also bonus features to buy into such as cold buttons and adjustable heat settings. All these things will help you choose the best hair dryer as per your requirements. So, let's explore each factor on-by-one.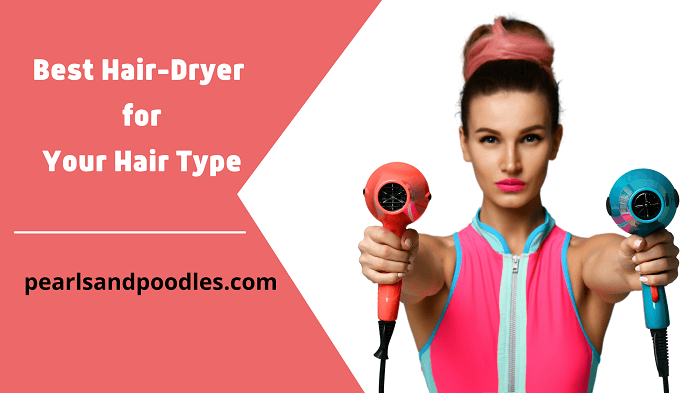 Factors to Consider While Choosing a Hair Dryer
What It Means:
A high motor Wattage is more likely to be necessary for thick hair, as it will dry the hair faster. If the motor is less than 2000 watts, it will take you longer to dry your hair.
For those with thick curly or wavy hair that is prone to frizzing or volume at random times in an unpredictable manner- look for a wattage between 2500 – 3000 (or higher).
These types of heavy-duty models may also come with ionic and tourmaline features which are important if you want voluminous curls without using any styling products.
Crucial If:
Your hair is thicker and you like your locks fast.
What It Means:
Ions protect against moist air which can cause static electricity in drier climates with higher humidity levels. Ions feature works best if you have a combination of dry and porous hair.[1]
This feature may not matter if you live in a low-humidity environment or want extra protection from frizzing out. 
Crucial If:
You live in humid climates or want to protect your curls from frizzing out. Also, if you have curly or wavy hair that needs lots of moisture and hates when it's too hot.
3. Ceramic, Porcelain, Infrared
What It Means:
Ceramic plates heat up quickly with the ability to distribute heat evenly through all layers and lengths of hair for shiny results while porcelain will be more gentle on fragile hair types like color-treated locks. It heats up quickly but cools down slowly – great for those with thinner hair. 
Porcelain is a great option for people who are looking for something in between ceramic and infrared. It heats up quickly but cools down faster than the other two.
Infrared can heat up more evenly, which is helpful since you don't need to worry about hotspots (places where the hot air might concentrate) that could damage your hair if not avoided.
When it comes time to style curly locks, this feature is key as ceramic provides even heating that scorches straight ones.
For those who are looking for less work when styling wavy tresses, infrared heats fast but may not provide enough power across thicker portions of long styles so make sure you test.
Crucial If:
You have fine or thinning hair and want an even distribution of heat throughout your locks.
What It Means:
Titanium's ability to distribute moisture without weighing down on your strands makes this the best choice if you're trying to avoid frizziness while still getting softness at the end of drying time.
This material also has a lower tendency of corrosion, which means the hair-dryer will last longer.
Crucial If:
You're looking for something that dries your locks slowly and evenly without any frizziness!
5. Bonus Features to Look For
A cold button is helpful when you want to set down the dryer or increase heat due to being too close.
Adjustable heat settings allow you more control over how much hot air comes out – this speeds up drying time but can also be used as a tool against breakage.
While there are always exceptions, a hair-dryer is one of the few beauty purchases that you can justify spending more on. Pros agree that the investment is well worth it for both quality and style.
I think people make the mistake of buying cheaper dryers thinking they are saving money – but it's important to take into account the lifetime of a product.
It's not uncommon for cheaper dryers to break after just six months or so, which can result in spending more than you wanted on replacements over time.
Choosing a hair-dryer is all about balancing your needs with what will work best for your locks. The right dryer doesn't have to be expensive and many high-quality models come at an affordable price point so do some research before making any purchases.
Remember that different types of hair require different wattages – if yours is fine and curly then higher heat may help open up tight curls while finer hair may need more time to dry.
Share This Story, Choose Your Platform!